Jack Slate
Talk

0
61pages on
this wiki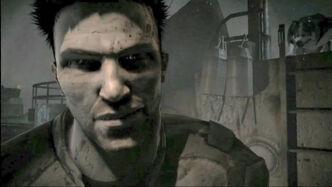 Jack Slate is the main protaginist of the Dead to Rights series. Jack is the son Frank Slate and is the owner of
Shadow
, his canine partner. Jack is a police officer of the 87th Precinct in Grant City

In Dead to Rights: Retribution, Jack is badly injured at the start of the game (having a dislocated shoulder and a broken finger) and is about to be ambushed by two Triad members. But thanks to Shadow, he makes it to the Phillies Bar where he meets up with EMT Faith Sands, a friend of his. Jack then explains what happened. It all started during a terrorist attack at Temple Tower by the Union. After Captain Inness fails to negotiate with the terrorists, Jack disobeys his direct order and charges in. Jack manages to save the hostages from Temple Tower, including the owner, Julius Temple. Unfortunatley, Riggs, the leader of the Union, manages to escape, leaving Jack empty handed.
After the incident, Jack, along with Frank Slate, his father, and Shadow, they decide to find a lead to Riggs. However, Jack and Frank are forced to split up after Jack chases down and arrests a Triad linked to Riggs. When Jack arrives with the Triad, he finds Frank mortally wounded and pleads for him to fight. Faith arrives and tries to revive Frank but he's already gone. Jack then desides to find answers that link his father's death.
During his quest, Jack defeats the leader of the Blackhand gang, Tseng, and encounters the GAC (Grant City Anti-Crime Unit.) Jack then finds out that it was in fact Julius Temple that planned the attack on Temple Tower. After going back to the tower, Jack confronts Temple. Temple explains that it was in fact Redwater that was responsible for his father's death. Temple tries to bribe Jack into letting him go by telling him where Redwater was, which was at Denver's Island. Instead of killing Julius in cold blood, he arrests him and does what Frank would've done. After taking back the 87th Precinct and freeing all the officers and SWAT from the GAC, Jack and Shadow, along with members of the 87th Precinct, travel to Denver's Island, where an old abandoned hospital was but was soon made into the Alpha base for the GAC. The 87th Precinct managed to take control and Jack continued his chase on Redwater. Jack tells Redwater that he will give him the chance Frank would've given him to leave quietly, but Redwater refuses. When Jack chases Redwater to the foot of the lighthouse, Redwater is about to take Jack out with a mounted turret until Shadow attacks Redwater. Unfortunately, Shadow is injured by Redwater, forcing Jack to go on alone and face Redwater. Jack defeats Redwater by fatally stabbing him with his own knife. In the end, Jack, Faith, and Shadow are at Frank's funeral. When everyone leaves, Jack and Shadow are the only ones remaining. Jack puts his cop badge on his father's headstone saying "I'll see you soon." And Jack walks away from Frank's grave with Shadow at his side.